Connexions : Bacon X Vélasquez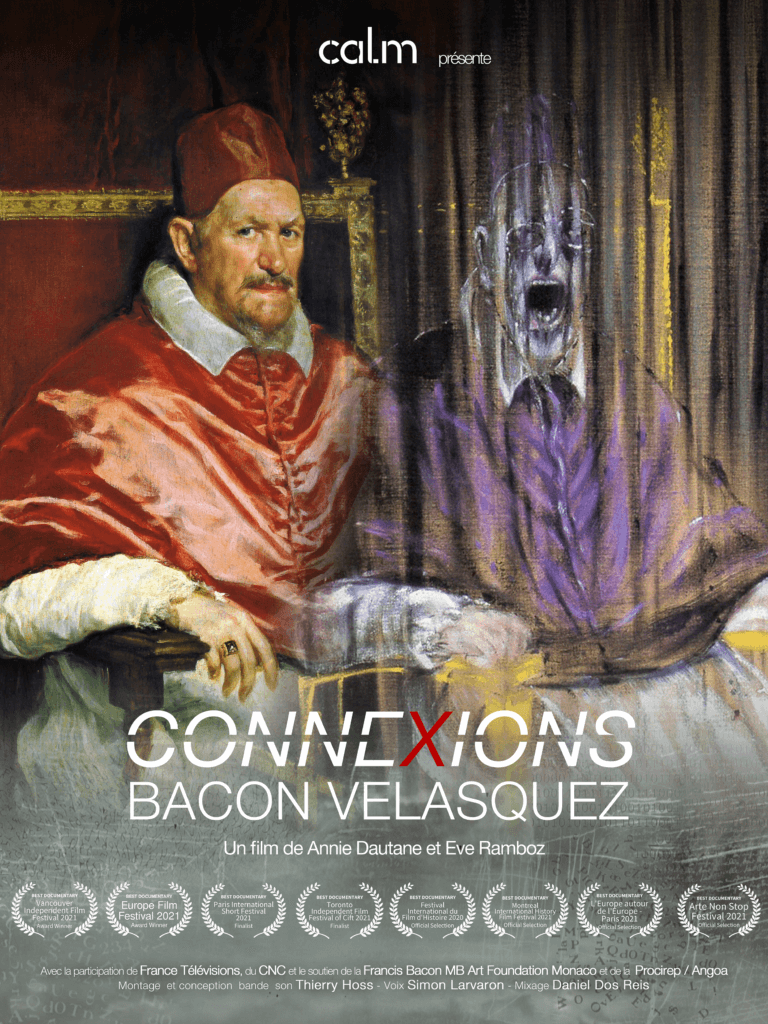 One of Francis Bacon's greatest obsessions was a painting from 1650: Diego Velasquez' portrait of Pope Innocent X. The encounter with the portrait of Innocent X is one of the events that helped to construct the mythical account of the life of Francis Bacon Between 1949 and 1971, Bacon painted 45 popes ... all after the famous portrait of Velasquez. "I wanted to paint the scream" said Bacon. However, in Velasquez' version, the Pope isn't screaming.
Une des plus grandes obsessions de Francis Bacon est le tableau du Pape Innocent X peint par Vélasquez en 1650. La rencontre avec le portrait d'Innocent X fait partie des événements qui ont contribué à construire le récit mythique de la vie de Francis Bacon. Entre 1949 et 1971, Bacon a peint 45 papes… tous d'après le célèbre portrait de Vélasquez. « Je veux peindre le cri, » dit Francis Bacon, pourtant dans la peinture de Vélasquez, le pape ne crie pas.
Festival
-LONDON EURPOE FILM FESTIVAL
Best documentary award winner
– VANCOUVER INDEPENDANT FILM FESTIVAL
Best documentary award winner
– INTERNATIONAL HISTORY FILM FESTIVAL in Pessac-Leognan
Finalist for best documentary
-Paris International Short Festival
Finalist for best documentary
-Toronto Independent Film Festival of Cift 2021
Finalist for best documentary
-Montréal International Film Festival
Official selection in the short documentary category
-L'Europe autour de l'Europe in France
Official selection in the main competition for best documentary
Official selection in the main competition for best documentary