Connexions : Banksy X Géricault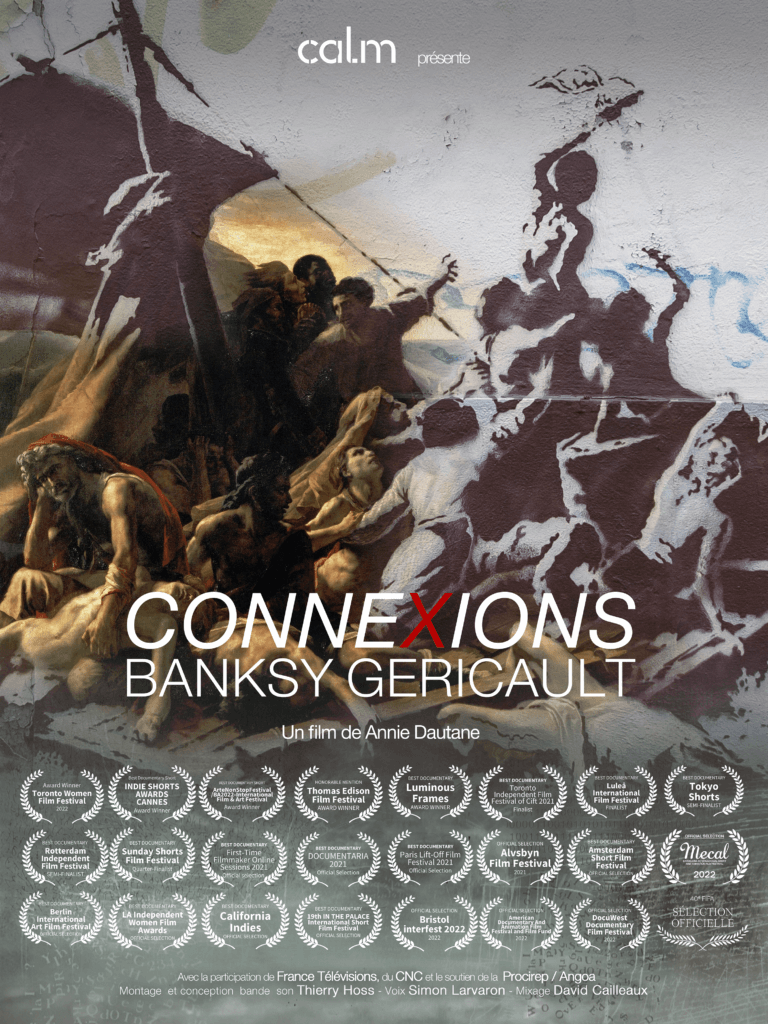 In 2015 in the city of Calais, Banksy produced four artworks in support of migrants. Not far from the belfry of the town hall, one of these works is a pastiche of the famous painting "The Raft of the Medusa" by the French painter Théodore Géricault. But instead of the ship "Argus", which rescued the survivors at the time, there is a car ferry similar to those which make the journey between Calais and Dover but which remain inaccessible to migrants. Banksy is issuing a warning cry on the migration crisis in Europe still ongoing this day. By recreating the Raft of the Medusa, it is in direct line in connection with Géricault's commitment, two centuries earlier, to the service of freedom.
En 2015 dans la ville de Calais, Banksy réalise quatre oeuvres en soutien aux migrants. Non loin du beffroi de l'hôtel de ville, il représente un pastiche de la célèbre toile « Le Radeau de la méduse » du peintre français Théodore Géricault. Mais à la place du navire « l'Argus », qui a secouru les rescapés d'alors, figure un car-ferry semblable à ceux qui effectuent les liaisons entre Calais et Douvres mais qui restent inaccessibles aux migrants. Banksy lance un cri d'alerte sur la crise migratoire qui s'éternise en Europe jusqu'à nos jours. En reprenant le radeau de la méduse, il s'inscrit en ligne directe de l'engagement de Géricault, deux siècles plus tôt, au service de la liberté.
FESTIVALS
– Toronto International Women film Festival
Best documentary award winner
-Indie Shorts Awards in Cannes
Best documentary award winner
– Arte non stop Film Festival in Buenos Aires
Best documentary award winner
–Thomas Edison Film Festival in New-Jersey
Jury Special Mention
-Toronto Independent film Festival Of CIFT au Canada
Finalist for best documentary
– Lulea International Film Festival En Suède
Finalist for best documentary
-Rotterdam Independant Film Festival Dans les Pays Bas
Semi finalist for best documentary
-Tokyo Shorts Au Japon
Semi finalist for best documentary
– Sunday Shorts Film Festival A Londre
Quarter-finalist for best documentary
-First-time filmmaker online sessions en UK
Official selection for best documentary
-Documentaria Film Festival En Palerme
Official selection for best documentary
-Paris Lift Off Festival A Paris
Official selection for best documentary
-Alvsbyn Film Festival En Suède
Official selection for best documentary
– Luminous Frames En Copenhague
Official selection for best documentary
Official selection for best director
-Amsterdam Short Film Festival Dans les Pays Bas
Official selection for best documentary
– Berlin International Art Film Festival En Allemagne
Official selection for best documentary
-LA Independant Women Film Awards Au USA
Official selection for best documentary
-California A Los Angeles
Official selection for best documentary
-19 th IN THE PALACE International Short Film festival En Sofia
Official selection for best documentary
– American Documentary And Animation Film Festival and Film Fund En Palm Springs
Official selection for best documentary
-DocuWest Documentary Film Festival En Denver
Official selection for best documentary
– Le Fifa Film Festival in Montreal
Official selection for best documentary
– Mecal Pro Film Festival in Barcelone
Official selection for best documentary